HERZ BE WEGT Coaching ist ein von Birgit Matz entwickeltes Beratungsmodul.
CoachingRAUM mit HERZ.
CoachingZEIT mit HERZ.
Das Coaching berührt berufliche oder persönliche Fragestellungen, die nach neuen Wegen suchen.
HERZ BE WEGT bringt die Herzebene in Bewegung und schenkt den Impuls für den nächsten Schritt ins Lebendigsein.
Ein heilsamer Impuls für den eigenen Lebensweg.
Wie sieht eine herzbewegt-Stunde aus?
Das herz-gespräch:
Dem Reden freien Lauf lassen und dem Gedankenstrom Worte und Sinn geben
Das herz-körperankommen:
Musik lässt den Körper in die Bewegung kommen
Das herz-lauschen:
Klänge mit Naturinstrumenten helfen dem Lauschen der inneren Stimme
Das herz-öffnen:
Achtsamkeit und sanftes Berührtsein bringen das Innere ins Fließen und in den Erkenntnisflow
Das herz-erkennen:
Sehen und Spüren, was im HERZEN sitzt
Das herz-ritual:
Das herzbewegt-Geschenk mitnehmen
herzbewegungen
herzwege
herzschritte
herzstimme
herzklopfen
herzlauschen
herzflüstern
herzrauschen
herzblick
herzsicht
herzquelle
herzlicht
herzliebe
herzsein
herzöffnung
herzfluss
herzvertrauen

herz be weg t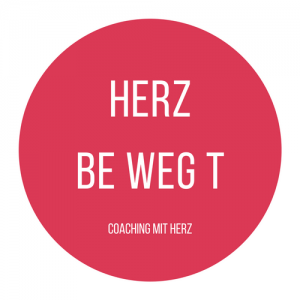 Bitte hier Kontakt für ein erstes unverbindliches Informationsgespräch aufnehmen.
♥